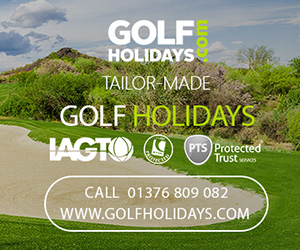 Specialising in Golf Holidays to Spain , Portugal & Worldwide
Golf Amigos, a brand of Golfholidays.com, have been sending golfers on sunshine golfing holidays since 1993, and we use our 25 years of experience to ensure that every detail of our clients holidays matches their requirements. 
The thousands of satisfied clients who book their golf trips with us year after year is a testament to the fact that we are getting it right. 
Whether you're looking for a relaxing golf holiday with family, a lively golfing break with friends or a fun corporate golf trip, we will be able to tailor-make a holiday to suit the occasion and your budget. 
We have been in the golf business a long time, and we have detailed knowledge of all the destinations, hotels and golf courses featured on this website.
Contact us now, and let us arrange the golf trip that is perfect for your requirements.


2018 Events include:
The Arizona Classic Pro-Am
The California Classic Pro-Am
2019 Events include:
The Scottsdale Classic Pro-Am
The Sawgrass Classic Pro-Am
The Pinehurst Classic Pro-Am
The Pro-Am Tour at Pebble Beach
Eligibility
To play in the above events Professionals must be a member or trainee member of The PGA of GB&I, or other equivalent national PGA, or a member of the PGA EuroPro Tour.
Certain membership categories of The Challenge Tour and The European Tour are also eligible - please contact us for further information.
Members of other professional tours, such as Alps, Nordic League, Gecko, Jamega, TP Tour Series, etc., are invited to join The PGA EuroPro Tour to become eligible to play in The Pro-Am Tour.
Please contact us for further information.
GolfHolidays
Digital House,
Threshelfords Business Park,
Inworth Road,
Feering
Colchester
C05 9SE
Tel: 01376 809082
Email: sales@golfholidays.com